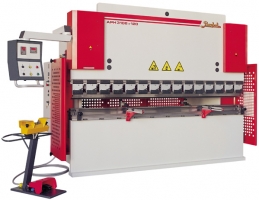 The APH Conventional Press Brake is the solution for those seeking a very simple hydraulic press brake and do not require the features of a synchronized press brake. The APH Press Brake is a very reliable press brake and should be considered when looking for an economical way to bend your parts.
CAPACITY RANGE:
Bending Tonnage: 39 tons to 330 tons
Bending Length: 4 feet to 14 feet
MAIN FEATURES:
Simple hydraulic down-acting press brake
Low maintenance hydraulic manifold design
Rigid welded monoblock steel frame for mnimum deflection under load
Patented hydro-mechanical system for exact parallelism and high repeatability
Proven solid torsion bar linkage technology for ram parallelism
Ram stroke controlled by precision mechanical stops built into each cylinder and electrically adjusted by push button with a digital position display
Independent position control of one cylinder stop to provide fine angle adjustment and/or conical bending possibilities
Large stroke and open heights to provide maximum bending flexibility
Hydraulic overload protection
Pressure switch and gauge to regulate bending tonnage easily
All European hydraulics and electrical components
Pre-Set two speed bending cycle providing fast approach, slow bending, and fast return
Repeatability of +/- .001″ under load
Three function footswitch with emergency stop
Front Operated 30 inch ball screw driven backgauge with two finger stops with micro-adjustable height
Two laterally adjustable support arms
Starter Tool Package consisting of an upper segmented punch and a lower multi-vee die
Universal Wedge Punch Clamp System for American or European tool styles
Simple pendent control for operating the press brake with an optional NC control for operating Y (stroke depth) and X (backgauge dimension)
SIMPLE OPTONS:
2 Axis XY Programmable back gauge control with 200 steps
Manual Lubrication
Filler block
Mechanical crowning system
Wila manual crown system
Lasersafe or AKAS safety guard
The AHP Conventional Hydraulic Press Brake is the ideal press brake for those seeking a simple and competitively priced press brake with heavy duty construction.