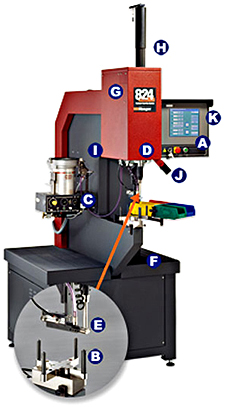 Maximize your insertion productivity and quality with Haeger's exclusive performance enhancing features.
The WindowTouch with the Turret Insertion System enables the insertion of up to four different fasteners in one handling, providing a productivity boost of 40% or more.
InsertionLogic software plus InsertionGraphics (Patent Pending) helps to virtually eliminate costly quality issues.
Features & Benefits
A. InsertionLogic Software + Insertion Graphics and Quality Control Pack
All NEW Version 9 w/ Optional Quality Control Pack includes Networking Software Communication, Offline Programming and Digital Camera Package.
The networking feature provides simple communication between the WindowTouch and a PC or network. Create and store programs off-line and call them up on multiple machines.
The Offline Programming software allows creation of programs on a PC, eliminating the need to stop the machine to create a program.
InsertionGraphics provides a visual guide through the insertion process. Part images are displayed on the computer touch screen — each fastener position on the part is displayed with a color-coded flashing dot. This virtually eliminates the possibility of missing a fastener or inserting one in the incorrect location.
The new and improved Quality Assurance feature checks fastener length and presence.
Multiple types/sizes of fasteners are inserted in one part handling.
Touch Screen Control PC based, 12-inch full color touch screen interface featuring the Microsoft® Windows XP operating system, solid state memory, 640 x 480 resolution, 128MB RAM working memory, 512MB flash memory (storage), Ethernet port and USB port.
Languages
InsertionLogic software can be configured to operate in fourteen languages, providing valuable customization for worldwide use and operation
B. Turret Insertion System (TIS–2)
The Turret Insertion System (TIS) enables up to four different fasteners to be inserted in one Part Handling. The NEW TIS-2 provides tool position feedback and positive locking station to ensure the operator is in the correct tool station, and the tool never moves during insertion. Tool position feedback helps eliminate missing fasteners by preventing the operator from moving to the next fastener until all the current fasteners are inserted. The positive locking feature provides 100% alignment of the insertion tools ensuring consistent alignment for AutoFeeding.


C. MAS
The nine-inch Modular Autofeed System (MAS) comes complete with vacuum generator.


D. Operator Safety System
Haeger's patented Safety System is effective at any point in the ram stroke irrespective of the tooling length, requiring no set up by the operator; thus not affecting initial machine set up time.


E. New Multi-Shuttle Tooling Platform for Nuts, Studs, Standoffs
The NEW Multi-Shuttle Platform provides universal quick and easy tool change-over between nuts, studs, and standoffs — enabling 2 minute total tool changes without realignment. The Multi-Shuttle platform, available on the WindowTouch exclusively, shares tooling modules with the OneTouch providing higher consistency, less training, and broader use of tooling for both machines. Change over between Manual and Automatic Tooling set up is faster and easier. (see page 12)


F. Fully Hydraulic System
The WindowTouch is extremely accurate and allows the operator to apply full tonnage at any point in the stroke. Faster ram speed increases productivity, reduces part cost and provides faster payback. The electronically controlled hydraulic system assures the most repeatable force in the industry.


G. Low Energy Usage
The hydraulic system uses approximately 40% less energy than air or air over hydraulic methods making it less expensive to operate.


H. Positive Stop
Ideal for insertions into thin gauge materials and other delicate insertion applications where absolute repeata­bility is critical. The Positive Stop is a standard feature and facilitates insertion in parts where pressures as low as 50lbs. may be needed.


I. Custom Tooling and Special Applications
Haeger provides an unmatched selection of standard tooling in both inch and metric hardware, while Haeger's in-house capabilities provides solutions to engineer and manufacture manual and automatic tooling for virtually any fastener.


J. Laser Part Locating Light
The NEW laser part locating light guides your insertion process with a "red cross hair" laser locator to show exactly where each fastener is inserted. The light provides fast location and identification.


K. Digital Camera Interface
The Haeger supplied digital camera, which is part of the Quality Control Pack, provides the ability to take part pictures at the machine and immediately import them into a part program.