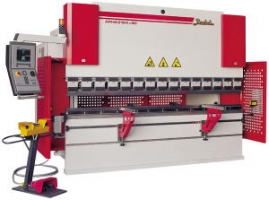 The APHS Hydraulic Press Brake is the solution for those who are looking for a multiple axis press brake providing a graphical control. In addition, any changes to the frame for making specials with extra open height, longer stroke, or even tandem designs are available. For the ultimate in flexibility, choose the APHS Press Brake.
CAPACITY RANGE:
Bending Tonnage: Standard Press Brake Models 39 to 660 ton. Larger tonnages up to 4000 tons available upon request
Bending Length: 4 feet to 20 Feet as standard sizes with larger bending sizes available upon request
MAIN FEATURES:
Ram repeatability of +/- .0004″
Downstroke synchronized cylinders which are fully supported in low friction slideways
Rigid welded monoblock steel frame for minimum deflection under load
One piece forged cylinders precision machined and honed for accuracy
Full electronic synchronization Y1Y2 with proportional valve technology
Universal Wedge Punch Clamp System for American or European tool styles
Maximum bend accuracy and repeatability assured though constant montoring and correction of beam parallelism by the CNC system
Precision CNC controlled X axis back gauge ballscrew driven with AC servo motor providing high speed and accuracy (optional back gauges available up to 6 axis)
Two T slotted support arms on linear guides for easy positioning
Stroke-depth measurement through high precision Heidenheim linear scales which are bed referenced
Compact Electrical Cabinet with ventilation
Cartridge valves mounted in a single steel manifold to reduce heat and wear
All European hydraulics and electrical components
Dual Footswitch
Starter Tool Package consisting of an upper segmented precision ground punch and a lower 6 way multi-vee die
Large stroke and open heights to provide maximum bending flexibility
Electrically interlocked swing away throat guards with space for mounting most brands of light curtains for press brake safety
Electrically interlocked rear sliding door prevents access to the back of the machine area during operation
All APHS Press Brakes come with a varity of options for crowning, additional backguage axis, hydraulic tool clamping, and safety guarding.
CNC SYSTEM:
Delem 66W mulit-axis 2D graphical controller is standard (3D is optional)
Full programmability of ram speeds, dwells, and positions
Full ability to program up to 8 axis (Y1,Y2, X1, X2, R1, R2, Z1, Z2)
USB interface for easy connection of external devices
Real time Windows system for multi-tasking and file management
Built in Error system and help texts to warn you of faulty programming
When looking for a multiple axis press brake, graphical control, extra open height, longer stroke and the ultimate in flexibility . . .