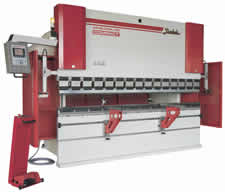 The compact design of the AHPS Compact Servo Hydraulic Press Brake is the perfect solution for those seeking a competitive priced Servo Hydraulic Press Brake. The APHS Compact has up to a four axis capability plus the ability to have CNC crowning as an option. The APHS Compact Press Brake standard models can handle 30 Tons to 330 Tons and lengths from 4 feet to 14 feet.
X-axes backgauge:
Traveling on ballscrews
AC-servo driven
With 2 micrometric finger-stops which have lateral adjustment
Range: 650 mm
Speed: 330 mm / s
Positioning accuracy: +\- 0.03 mm
X-R axes backgauge:
Traveling on ball screws
AC-servo driven
With 2 micrometric finger-stops which have lateral adjustment
Range: X-axis: 600 mm | R-axis: 160 mm
Speed: X-axis: 350 mm/ s | R-axis: 240 mm / s
Positioning Accuracy: X-axis: +/- 0.03 mm | R-axis: +/- 0.05 mm
Main Features:
Ram repeatability of +/- .0004″
Downstroke synchronized cylinders which are fully supported in low friction slideways
Rigid welded monoblock steel frame for minimum deflection under load
Full electronic synchronization with proportional valve technology
One piece forged cylinders precision machined and honed for accuracy
Universal Wedge Punch Clamp System for American or European tool styles
Maximum bend accuracy and repeatability assured through constant monitoring and correction of beam parallelism by the CNC system
Precision CNC controlled X axis back gauge ball screw driven with AC servo motor providing high speed and accuracy (optional XR back gauge available)
Two slotted support arms on linear guides for easy positioning
Stroke depth measured by high precision Heidenheim linear scales which are bed referenced
Cartridge valves mounted in a single steel manifold to reduce heat and wear
Compact Electrical cabinet with ventilation
Dual Footswitch with Emergency stop
All European hydraulics and electrical components
Starter Tool Package consisting of an upper segmented precision ground punch and a lower 6 way multi-vee die
Large stroke and open heights to provice maximum bending flexibility
Simple EC4 non graphic programming control
Off-Line Programming software is included
Electonically Interlocked swing away throat guards with space for mounting most brands of light curtains
Electrically interlocked rear sliding door prevents access to the back of the machine during operation
All Compact machines come with a variety of options for crowning, XR back gauge, hydraulic tool clamping, and safety guarding
CNC System:
EC 4 Non Graphic 4 Axis controller for programming the Y1, Y2, X, and optional R axis
USB Memory port for memory stick
Silicon hard disk for more than 7,000 part programs
2D Graphic editor for tool data entry
Calculation for optional CNC crowning system
Safety PLC communications (PILZ, LAZERSAFE)
Complete off-line programming software for a standard PC
The AHPS Compact Servo Hydraulic Press Brake is the ideal press brake for those seeking a competitively priced CNC press brake packed with quality features.