e-Soft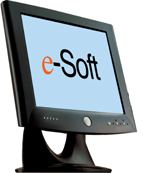 MAZAK e-Soft UTILIZES INFORMATION TECHNOLOGY TO SUPPORT FACTORY OPERATIONS AND MAXIMIZE "GREEN LIGHT" TIME.
Mazak e-Soft is an exclusive software package that gathers, stores, and distributes vital information for factory staff and management to act on in real time. On the factory floor or in your remote "command center," you maintain control over your laser processing with e-Soft. Its many functions maximize "green light" time, making your operations more productive and profitable! Available for the HyperGear, the Hyper Turbo-X, the Super Turbo-X Champion,
and any Mazak Optonics Laser Cutting System with PREview installed.
e-Soft Features
Click on each screen to see it's capabilities