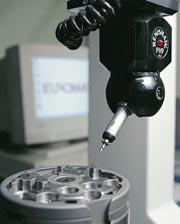 Quality Control at EUROMAC is each employee's task and responsibility.
We believe in manufacturing quality – not just inspecting it.
Being a manufacturer of state-of-the-art machine tools, obliges us to use the same in our operations.
From latest generation CNC machinery centers with automated pallet shuttles to high precision custom-made tools – we produce every mechanical part with the most modern technology available to tolerances that leave us ample safety reserve.
Quality Control of Mechanical Parts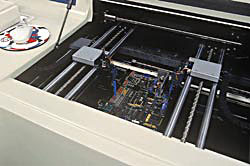 Checking electronic board assemblies
Hardening control system
3D Measuring system for small parts
Total quality measuring system evaluated by EUROMAC
We then take these parts and check them consistently for dimension, hardness, and surface specification with high-tech inspection equipment. Every aspect of your EUROMAC is thereby assured for your comfort.
Quality Control of Electronic Parts
Fully automatic checking system for multi-layer electronic boards
Bed nails connection control
Soldering control system
What goes for mechanical parts applies to electronic components. Rigid checking of boards with fully-automated testing equipment to ensure the integrity of every connection and functionality is completed in a final test for 48 hours in our extreme climate test rooms.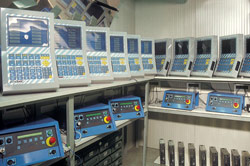 48 hours extreme climate testing
in automatic cycles