Change your angle o­n notching technology and experience the flexibility of a variable angle notching system of unmatched precision and ease of use with automatic blade gap adjustment at any angle.
Technical description
Variable angle blades adjust between 30° and 140°. For variable angle notchers with multi attachment the angle can be changed non symmetrical individually for each side.


Automatic blade gap adjustment (European Patent No. 1.214.004) to ensure perfect cuts in a wide variety of materials and thickness' (from 1 to 6.5 mm). You eliminate the burr and the manual blade adjustment. This leads to more productivity and less time loss.


Absolute rigidity is provided by our monoblock Meehanite® steel casting ( 65kg/mm² ) incorporating a heavy duty 3-guide system assures unmatched cutting precision and blade life.


Built in lifetime lubrication of the lateral columns and central guide column reducing maintenance requirements further.


Fixed alignment of upper and lower blades with a joint created by a hardened rod guaranteeing parallel movement of the upper and lower blade segments.


5 hydraulic cylinders assure blade angle position o­nce clamped o­nto the blade holding segments with safety interlock to prohibit a notcher stroke while the blade segments are unclamped and movable.


Reversible blades in HSS (high speed steel) are available in 30° and 60° with either positive cutting direction (cutting from the front edge) or negative cutting (cutting from the rear edge). This gives you the benefit of additionally longer tool life.


You may select between single step mode or step by step mode (inching function). This allows you to easily copy reference parts or work with special applications.


This capability is enhanced by the standard stroke adjustment which limits the stroke to a preset position. You can therefore produce defined shears, not necessarily ending at the edge of the material and you can increase yuour stroke rate with the shortest possible stroke for each task.


Unlimited length trimming is possible with the position of the side guides perfectly aligned with the blades. As you feed the material along the fixture in front of the blade it is guided in line along the rear of the blade.


A robust Macrolon sheet gives you uninhibited sight of the working area while assuring your safety from accidentally reaching into the cutting zone.


Precise, heavy duty brass measuring scales assist you in quick set up and are still legible after years of reliable service.


Sheet holding clamps securely hold the work piece to eliminate any torque induced movement during the cut.


Optional internal stops further can reduce your set up time and work results.


Technical Details

VA-220/6R

Blade Length mm.

220

Blade Clearance Adjustment

Automatic

Max. sheet thickness mm.:
R= 42 kg/ mm²
R= 60 kg/ mm²

6.5
5

Cutting angle

From 30° to 140°

Strokes per min.:
- with max. cutting length
- at 50 mm. cutting length


50
80

Working table dimensions mm.

950 x 790

Working table height mm.

900

Overall machine dimensions mm. (L x W x H)

950 x 860 x 1.200

Weight kg.

950

Motor kW Hp

4 - 5,5

Oil tank capacity Lt.

35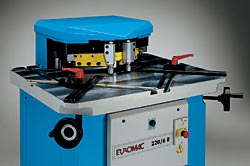 220/6 R Variable Angle Notcher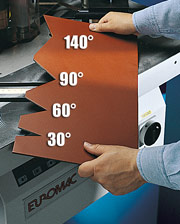 Variable Angle Notching.
Infinitely adjustable from 30° to 140°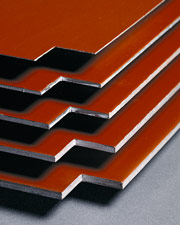 Automatic blade gap adjustment
CE Patent no. 0311889
Wyvern Fabricating Solutions
1257 Sanguinetti Road #159, Sonora, Calif. 95370 Phone (209) 559-9150