FabriGear 300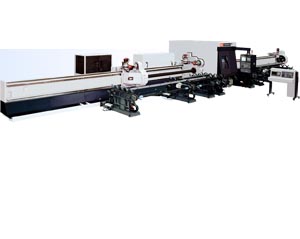 | | |
| --- | --- |
| Resonators: | 2500W or 4000W |
| Applications: | Laser cuts and fabricates tube, pipe, and structural shapes in one setup |
| Capacities: | Up to 10.5" round pipe (optional 11.8") or 8" square pipe Up to 26' long (optional 49') |
| Features: | Automatically loads, feeds, laser cuts and unloads parts |
The FABRIGEAR 300 laser cuts larger size tube and pipe, whether round, square, rectangular, or triangular. In addition, it can completely process I and H-beams, C-channel, angle iron, and additional user-defined shapes.
6-axis laser cutting means you can cut at any desired angle for weld prep, plus achieve the highest accuracy for easy fit-up of assemblies - all in a single program cycle. Moreover, FABRIGEAR'S program-controlled loading, workholding, and unloading make it a super-efficient fabrication cell requiring a minimum of labor input.
With 26' of standard length capacity, FABRIGEAR 300 accommodates standard mill lengths. And an extra-long model is available to handle materials up to 49' in length. Please refer to FABRIGEAR 150 for smaller diameter capacities.
The FG CAM programming software is easy to use with illustrated fill-in-the-blank screens for quickly generating NC code. It performs dynamic nesting and has over 70 pre-programmed cutting parameters for you to choose from. In addition, fabricators can store their "best practices" and frequently used setups for even faster programming.