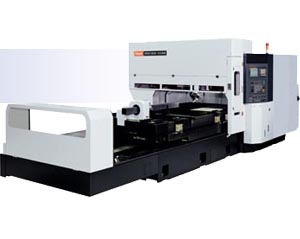 | | |
| --- | --- |
| Resonators: | 1500W/2500W/4000W |
| Max. cutting thickness: | 7/8" mild steel |
| Bed sizes: | 4' x 8', 5' x 10', & 6' x 12' |
| Z-axis stroke: | 16.5" |
| Features: | Large capacity universal lasers for 2D, 3D plus tube, pipe and structural fabricating |
There's simply no compromise when it comes to SPACEGEAR. Large capacities and your choice of laser resonators allow you to fit your fabrication needs perfectly. Shops that process 1/2" or thinner steel will benefit from low operating costs of a 1500W unit. At the other end of the scale, our robust 4000W laser tackles the heavy jobs with ease.

2-D mode is for flat sheet and plate up to 144" X 72" (6' x 12' model) and 7/8" thick. Rapid traverse rates of 945 ipm make for efficient and fast cutting.

3-D mode makes use of our compact cutting head with 360° rotation in the A-axis and 135° in the B-axis to maintain a normal cutting angle to all preformed sculptured surfaces. A non-contact profiler maintains a constant stand-off distance and eliminates marring of the part. SPACEGEAR can even design and build its own part locating fixtures for Done-in-One fast turnaround.

Tubes, pipes, and structural shapes can all be processed by adding a CNC rotary chuck and supports for long workpieces. In all, six axes of continuous CNC control allow you to cut weld preps, angled features, and much more in a single setup. No three-axis laser can match this flexibility and throughput.
Wyvern Fabricating Solutions
1257 Sanguinetti Road #159, Sonora, Calif. 95370 Phone (209) 559-9150