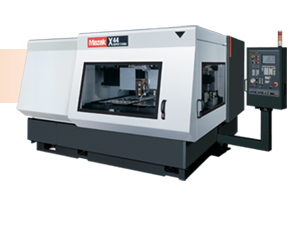 Resonators:
1500W/2500W/4000W
Max. cutting thickness:
.500"/.750"/1.00"
mild steel
Bed sizes:
4' x 4'
Features:
Fast, Compact, Low-Cost Laser Processes wide variety of shapes and materials
The STX-44 adds value and reduces cost by providing higher quality laser-cut edges, flexible design, and quick turnaround, consistently and cost-effectively. It also offers fabricators a choice of three different resonators, choosing the resonator power most efficient for their business. Fabricators who cut primarily 0.50" and thinner can take advantage of the low energy and running costs of a 1500-watt system. The 2500-watt system will easily cut mild steel to .750". Those who cut thicker gauges will want the 4000-watt system, which cuts mild steel up to 1" thick. Higher wattage systems will process thinner gauges at faster speeds.

The STX-44 occupies minimal floor space, and its Meehanite frame greatly reduces vibrations that occur with high-speed cutting. This results in consistent, superior accuracy, and low maintenance requirements. A completely enclosed cutting area with an improved dust collector meets FDA Class 1 safety standards, providing a safe, clean work environment.




Wyvern Fabricating Solutions
1257 Sanguinetti Road #159, Sonora, Calif. 95370 Phone (209) 559-9150